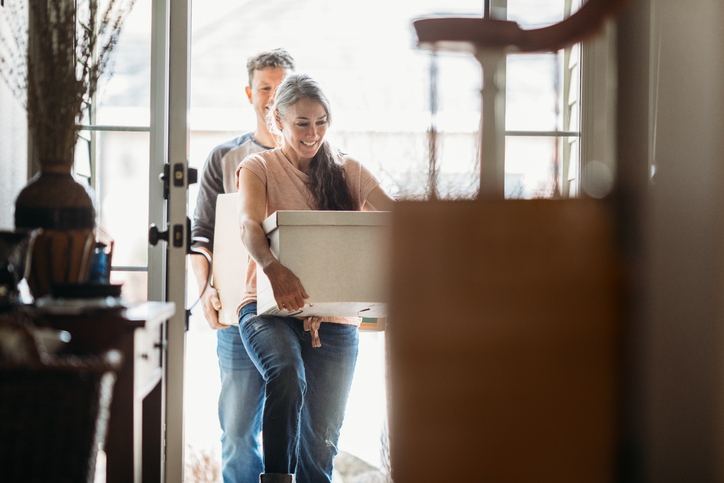 Relocating to a new home can sometimes turn out to be a stressful experience as there are plenty of things you'll need to deal with and stay on top of. Staying organized and breaking the process down into smaller tasks is the key to a successful and stress-free relocation.
In this article, we give you an eight-week guide with some of the things you need to do during the moving process.
8 weeks before
Look for reputable moving companies. Ask friends or family who have recently moved for recommendations.
Consider getting insurance coverage for your relocation. If you've already found a moving company, ask them what type of insurance is included and find out what your homeowners' policy covers.
Research schools, hospitals, banks, and other essential services if you're relocating to a new area.
7 weeks before
Get written estimates from at least three licensed moving companies.
Gather contact information of some of the businesses you need to reach regarding your address change.
Keep all of your estimates and moving-related paperwork in a folder or binder.
6 weeks before
Start packing. Look at your closets and storage areas for things you no longer need, and figure out what you should dispose of and which items you can donate.
Donate unwanted items to charity, or sell some items in a garage sale or online.
Contact schools in the area you're moving regarding the transferal of school records, in case you have kids.
Start packing items you use occasionally, such as seasonal décor and other items stored in your garage and/or attic.
5 weeks before
Contact friends and family and let them know your new address.
Shop for moving supplies such as box cutters, tape, boxes, packing material, and sticker labels. Order specialty items such as wardrobe boxes or mattress bags in case your mover does not supply these.
Create an organized box-labeling system, and arrange boxes by room, type of item, or whatever you have in mind.
4 weeks before
File your change of address with the US Post Office.
Make sure to let your employer know about your upcoming move, and file vacation time if necessary.
Take a look at your list of businesses and services and start changing addresses on your accounts.
Confirm major details and other things you might need to sort out with your mover.
3 weeks before
Take photos of your valuable items like furniture, and note any existing damage on your furniture.
Cancel existing services like newspaper home delivery.
Collect all important paperwork and valuable items like jewelry and family heirlooms. Don't let these items get mixed in with all your moving boxes, and transport them by hand, or use a trackable and insured shipping service.
2 weeks before
Try to finish packing most of your things, so you don't have to deal with them in the final week.
If you're transporting major appliances, clean them beforehand and make sure they're all ready to go.
Prepare an envelope containing warranty forms, a list of recommended vendors, your contact info, and other necessary information or paperwork for the new owner of your home.
Withdraw cash for use as tip for the movers as well as for any unexpected expenses.
1 week before
Get rid of any flammable items such as chemicals, paint, or aerosol cans in your home.
Make sure all utilities are switched off on the day before you move out of your current home.
Hire a cleaning company for a quick clean after you leave or before the new owners arrive.
Recheck all your boxes. In case you have any additional items you wish to donate, schedule a pickup from the organization you want to donate to.
Confirm all details with your moving company, including arrival time and any last-minute details.
Planning to relocate to Granbury? Call us at 817-579-9300 or send an email to [email protected].